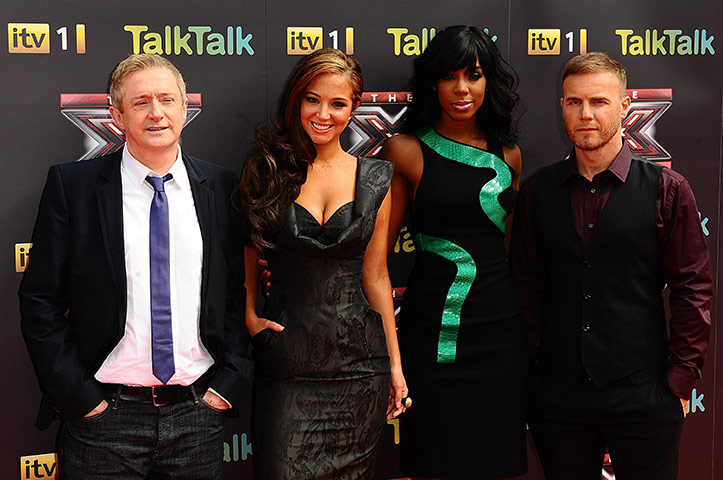 the new panel are ready, finally that was a bit of long intro 15 minutes or so before we even see the first act of the year. The new judges are here Tulisa Contostavlos (N-Dubz), Kelly Rowland (Destiny Child), Gary Barlow (Take That) and of course old timer Louis Walsh is back for the ride once again, a lot has been said as to weather the X Factor will survive whilst the shows creator Simon Cowell is off launching the series in America, and then we lost Cheryl Cole for no reason at all after she landed a job on the American version but was sacked by the third show as Americans didn't understand he accent.
I really think it can survive and with all of the new judges, they were all brilliant and I for one didn't miss either Cowell or Cole. It would seem from the evidence of the first show that Gary Barlow is probably going to play the Simon Cowell role, as he certainly didn't hold back in telling people what he thought. Tulisa from N-Dubz, where did she come from? She must be majorly dressed down to Chav status in N-Dubz because man is she hot, Cheryl Cole won't be missed as long as she is there.
The new judge line up and layout of the show really look as if it will be a real hit, judging by a couple of the contestants things won't change much there either with the good, the bad and the ugly all making an appearance to show us their talents, so check out the best and worst of the first night in the video's below, don't forget to leave your comments and come back every week for your dose of the X Factor.
Frankie Cacozza from Brighton the first contestant of this year, you can generally tell if someone is going to be good or bad, I thought this guy would be ok. He was after he put his ass away (watch the video), he probably won't win but he was ok and got 4 votes to see him through to the second round.
Kitty Brucknell next I really thought she was going to be terrible, don't try and pull off Gaga when you cant sing.....Good job she can really, excellent voice, a little cocky and in your face but there may well be a reason for that.
The next contestant was throwing up before she went on stage, that's not a good impression straight off, presenter Dermot O'Leary almost threw up, honestly some people. Having watched this Sunday night I had been pre warned about this lady and her attempt at singing. Goldie Cheung sang Papa Bell (I haven't heard of it either), then she went Rolling On The River.
Janet Devlin reminds me of Katie Waisell from last years competition, not in attitude just her singing voice her Elton John cover was really good and she deserves the pass to the second round.
Last one for you from this week, George Gerasimou. A contestant who auditioned a couple of years back with a group named Triple Trouble, not much has changed for little old George! He still can't sing and he clearly forgot to wash out his mouth before auditioning.