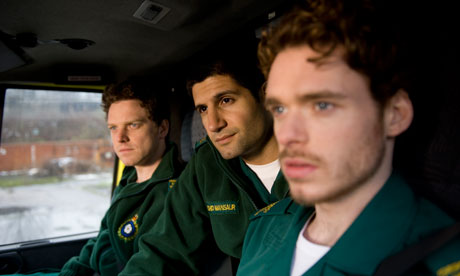 So the best comedy show on TV has come to an end, that's right last night was the final episode of our weekly dose of Stuart, Rachid and Ashley in Sirens. All we can hope now is that it rides on it's obvious success and we get a second series. For all the readers who come here for the music and reviews from the show then make sure today is the day you click on the RSS button on the top right, follow me on twitter or like the site on Facebook, that way you won't miss any news about a second series and you never know you may well enjoy the rest of the postings here. On with the show now.
Stuart is a superhero. that's why this show is so good! He's not really that's just the way they introduced the show last night whilst little Stuart was stuck to the garage door courtesy of a crossbow arrow, I also thought as this is my most read posting I could plug the superhero poll that's running here this week, it's over on the right be sure to leave your vote.
Good to see that the laughs were back this week, there weren't to many the week before. The scene in the bar first off with Ashley and Rachid. Rachid's ethos is you should make a rule on making love after any type of news, good news, bad news, bank holidays. Not pancake day though it's the lemons.
The name of this episode was "Cry" that was to do with Stuart being able to grieve for his father, in order to help him achieve this he decided to pop around to see his step mother where he was introduced to a brother that he didn't know about. His step mother Yvonne says just look around the house there are signs of your dad everywhere, he looks straight over at the side board to see a novelty mug sporting a pair of breasts, if you didn't find it funny I would be very surprised.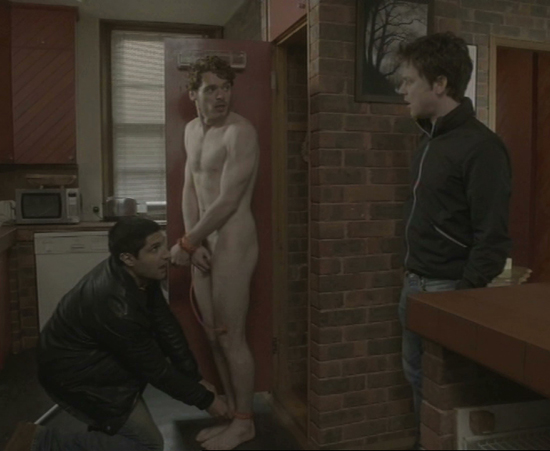 Rachid had a really big part to play this week and as usual the guy was hilarious, he was partnered up with fat Karl for most of the episode. Karl has toilet troubles so while he was waiting Rachid was sitting watching the girls go by, whilst grading their bums on a scale of 1 to 10, very funny and something that most guys would probably do. Just after that fat Karl returns from the toilet to be asked "nice ____" you can guess the word right? It just reminded me of that scene in Borat where he is at the Americans house for lunch.
Stuart was also supposed to be attending his fathers funeral in the episode, he decided against it at first going to work and responding to an emergency call of an unresponsive 4 year old male, they get their pretty quick as you would expect an ambulance to, only to find an old guy has rang the ambulance service and the 4 year old male he is referring to is his pet budgie, currently in it's cage doing the backstroke. This gave Stuart the opportunity to watch a video his father had kept of him when he was younger prompting hime to go to the funeral. Only to be pipped by 10 minutes and not make it at all.
I'm really going to miss Sirens it's one of the most original and well put together comedies I have seen lately, right up my street really, a mix of everything and just the fix you need for your Monday night relax after your first day back at work. I just hope like I said above that Channel 4 decide this is worthy of a second series. I'm sure Brian Kellett has got plenty more stories on his blog that Stu, Ash and Rachid could make extremely funny.
Now as always you want to know what the music was used in this weeks episode, and guess what? This week I can't find it Brian Kellett has not even published it to his page, so lets all just remember that great intro music from Little Barrie it's called Surf Hell and the vide is below.