Friday again and everyone's favourite post of the week, right?

As always I will detail everything that is worth your effort and time in a trip down to your local cinema this weekend, and it's a good one to.

Two movies this week both of which are big releases, on that note I'll start with my top release of the week.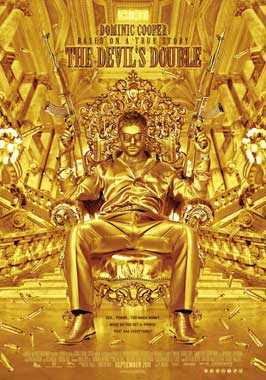 I first heard of this movie a while ago.

The Devil's Double at first seemed to me that it would be a movie similar to the Devil's Advocate, starring Al Pacino and Keanu Reeves.

I then started to see the various posters up on bus shelters and other media, that got me thinking this is going to be like Scarface also starring Al Pacino, I'm now thinking I have to see this movie.
Starring: Dominic Cooper, Ludivine Sagnier and Philip Quast
The movie has nothing to do with the two comparisons that I have made above, it is a little Gangster (ish) I suppose but more in the form of a ruthless dictators son.

It focuses on Uday Hussein (Cooper), the son of Saddam Hussein.

The film documents the lavish lifestyle of a man who helps himself to what he wants when he wants it.

Lieutenant Latif Yahia (also Cooper) is summonsed to Saddam's palace and ordered to act as a body double for Uday, his "fiday".

Betrayel and corruption are now all around Latif as he struggles on who to trust while trying to escape his forced existence.
I've heard really good things about this movie and it's one I think I will see just out of curiosity more than anything.

Latif Yahia actually helped write the movie to, so that should make it pretty true to form I would think.
Next up this week some Apes, really freakishly realistic looking Apes actually.

Rise Of The Planet Of The Apes is the rehash to the movie which starred Mark Wahlberg which incidentally I haven't seen, maybe that's a good thing, I don't know.

I mentioned this movie not long after starting this blog and if I'm honest I wondered what all the fuss was about, having now seen the trailer I can see what the fuss was about.

This movie looks pretty decent if not for the effects alone.
Starring: James Franco, Andy Serkis, Freida Pinto and John Lithgow
This movie is a rehash or going over if you like and acts as a foundation for a new film series, which look entirely better than the last lot we saw.

Will Rodman (Franco) is a San Francisco based scientist working on a cure of Alzheimer's disease, he gets a baby Chimpanzee who he names Cesar (Serkis), Cesar's mother was one of his test subjects who is killed after going on the rampage.

Cesar has inherited her high level of intelligence due to the testing and it doesn't take him long to start figuring things out for himself sparking an all out war for supremacy.
Like I say I haven't actually seen the other movies made before this one but, this does look really promising and like the other movie mentioned here today this is one I will be adding to my must see list.
*
I'm going to add a shameless plug for followers now, if you come here often you will have noticed the new Networked Blogs box on the right, please follow the blog if you use Facebook or Twitter and recommend it to your friends, cheers.*