Disappointing Dexter is having to ship off Harrison to the grandparents house now that this pain in the ass Jordan Chase is well onto both Lumen and Dexter. Ruben mentioned last week in comments that Dexter seems to be living a pretty affluent lifestyle, or he has a very high credit card bill nothing changed in that respect this week as Dexter is now renting an apartment for Lumen to stay in.
Due to the Barrel girls case being reopened Cole Harmens house has now been searched and DVDs with video's of all thirteen girls have been recovered and their shocking contents revealed not to us of course just the Miami Detectives, Dexter though cunning as he is has managed to swap the evidence from under the nose of his comedic partner Masuka, meaning that the thirteenth disk is going to be blank, that will surely throw up a few questions, right?
Who thinks Deb is going to turn into a serial killer? Week before last she killed the little hoodlum who was going around chapping heads off and said she felt nothing, a feeling that she confirmed this week. Maybe in series 6 Dexter, Lumen and Debra are going to form some sort of threesome.
That Eugene Grier is a bit of a porker, Jordan Chase really is an inspiration right? He has lost all that weight and we found out that Chase isn't even his real name, and he likes to Poke Cole on Facebook, any one know the point of that feature? I don't poke people on Facebook. Following a conversation with Maria (the original girl) Lumen now knows Alex Tildon is the 5th guy in the frame, he will surely be next on the list.
I tell you what I really enjoyed this week, Stan Liddy (Robocop) he really is a great actor and I'm really looking forward to what will be an ultimate stand off between him and Dexter in the coming weeks, I really don't think he's watching Dexter and Lumen for police purposes I think he is getting way to much personal thrill out of it, he has fallen out with Quinn who continually struggles to keep this guy under control. Liddy is putting together the jigsaw way to quickly and he is going to have to be dealt with.
Did you see Dexter's face when Lumen put those leather gloves on? A little perverted would you say, I mean I know she is hot but there is no need you are gonna end up in bed with her by the end of the show anyway.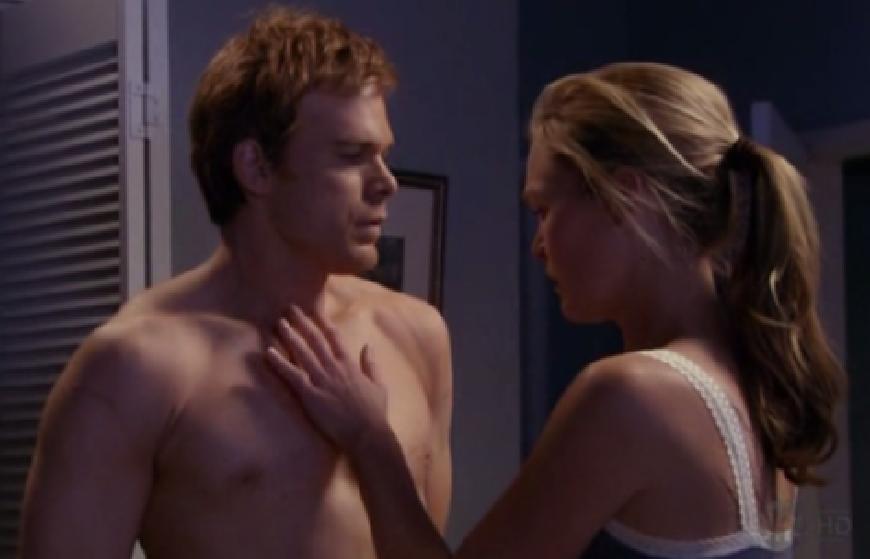 So little old Maria isn't the lonely little lady who she appeared when we first met her earlier in the episode she along with Jordan Chase is double crossing Lumen, maybe she will end up on the table of Dexter also.
The episode ended great as always, first off we had Jordan Chase coming to the station to volunteer his DNA sample up and count him out of anything, we know that as Dexter took the sample and has told him it will come back clear then him and Lumen will be coming for him, and secondly Lumen and Dexter fleeing human connection didn't last to long especially when Lumen got her kit off for us. Then just when you are not expecting Dexter to kill anyone this week Alex ends up on the table as his part in the show warrants nothing more than a quick kill off, I really thought he was going to talk Lumen out of it luckily not with some great instruction from Dex she got the knife in the right spot.
**Remember X Factor started again on Saturday night that will be the normal Sunday post, I've had a hectic weekend so will get the X Facotor to you Monday**